Sex and Nature: 1800-2018
University of Exeter, 10-11 June 2019
We are now able to accept registration for our Sex and Nature conference in Exeter. To register, please follow this link.
You can find the full programme below. Download the programme Pdf here.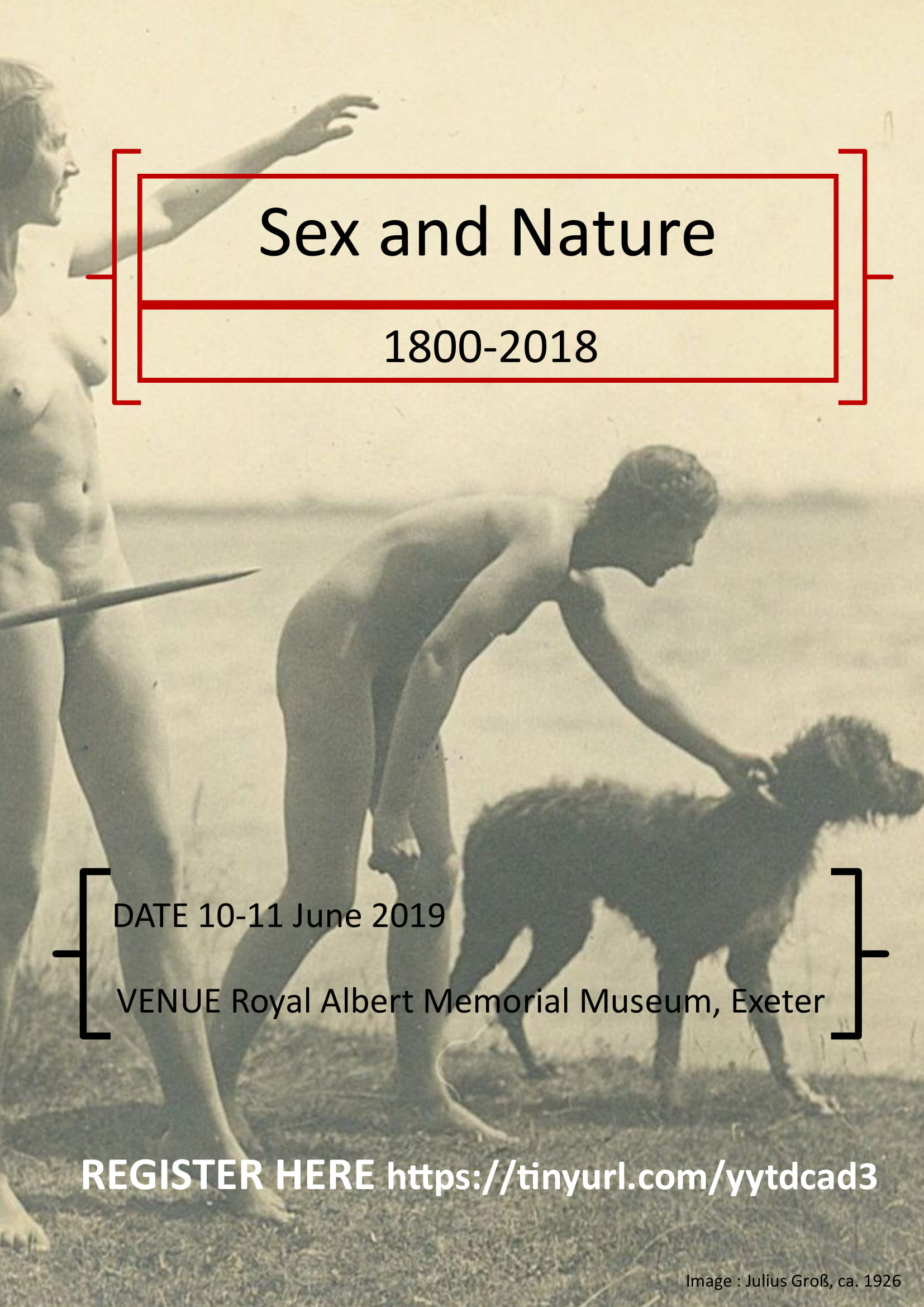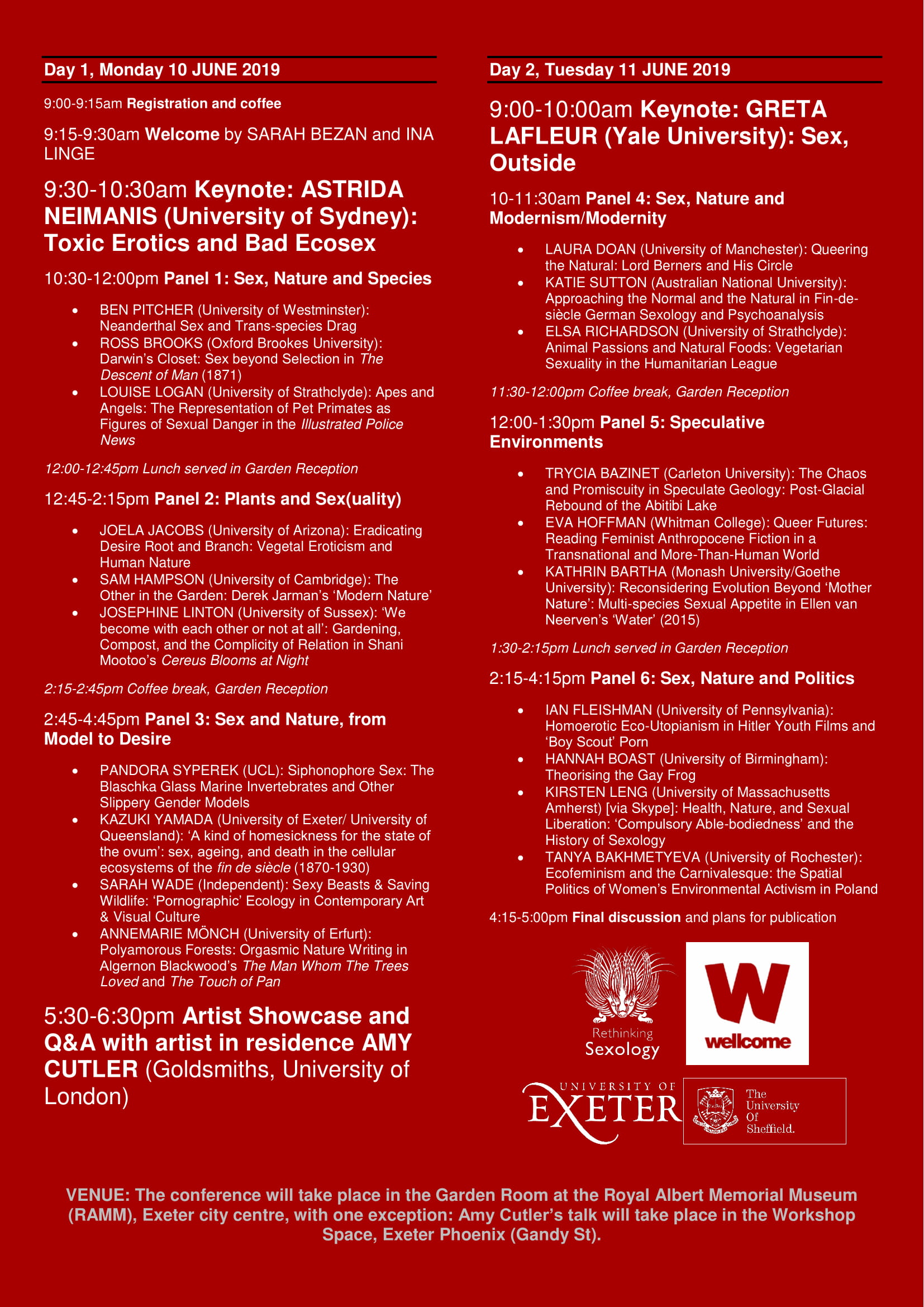 Sex and Nature
1800-2018
Provisional programme
10-11 June 2019
Exeter, UK
Day 1, Monday 10 JUNE 2019
Venue: Garden Room at the Royal Albert Memorial Museum (RAMM), Exeter city centre
9:00-9:15              Registration
9:15-9:30              Welcome by Sarah Bezan and Ina Linge
9:30-10:30           Keynote 1: Astrida Neimanis (University of Sydney): Toxic Erotics and Bad Ecosex
10:30-12:00         Panel 1: Sex, Nature and Species
Ben Pitcher (University of Westminster): Neanderthal Sex and Trans-species Drag
Ross Brooks (Oxford Brookes University): Darwin's Closet: Sex beyond Selection in The Descent of Man (1871)
Louise Logan (University of Strathclyde): Apes and Angels: The Representation of Pet Primates as Figures of Sexual Danger in the Illustrated Police News
12:00-12:45         Lunch served in Garden Reception, RAMM
12:45-2:15           Panel 2: Plants and Sex(uality)
Joela Jacobs (University of Arizona): Eradicating Desire Root and Branch: Vegetal Eroticism and Human Nature
Sam Hampson (University of Cambridge): The Other in the Garden: Derek Jarman's 'Modern Nature'
Josephine Linton (University of Sussex): 'We become with each other or not at all': Gardening, Compost, and the Complicity of Relation in Shani Mootoo's Cereus Blooms at Night
2:15-2:45              Coffee break, Garden Reception, RAMM
2:45-4:45              Panel 3: Sex and Nature, from Model to Desire
Pandora Syperek (UCL): Siphonophore Sex: The Blaschka Glass Marine Invertebrates and Other Slippery Gender Models
Kazuki Yamada (University of Exeter/ University of Queensland): 'A kind of homesickness for the state of the ovum': sex, ageing, and death in the cellular ecosystems of the fin de siècle (1870-1930)
Sarah Wade (Independent): Sexy Beasts & Saving Wildlife: 'Pornographic' Ecology in Contemporary Art & Visual Culture
Annemarie Mönch (University of Erfurt): Polyamorous Forests: Orgasmic Nature Writing in Algernon Blackwood's "The Man Whom The Trees Loved" and "The Touch of Pan"
Short walk (1 min) from RAMM to Exeter Phoenix (Gandy St, Exeter EX4 3LS)
5:30-6:30              Artist Showcase and Q&A with artist in residence Amy Cutler (Goldsmiths, University of London), venue: Workshop space at Exeter Phoenix
7:00-close            Conference Dinner
Day 2 Tuesday 11 JUNE 2019
Venue: Garden Room at the Royal Albert Memorial Museum (RAMM), Exeter city centre
9:00-10:00           Keynote 2: Greta LaFleur (Yale University): Sex, Outside
10-11:30               Panel 4: Sex, Nature and Modernism/Modernity
Laura Doan (University of Manchester): Queering the Natural: Lord Berners and His Circle
Katie Sutton: (Australian National University): Approaching the Normal and the Natural in Fin-de-siecle German Sexology and Psychoanalysis
Elsa Richardson (University of Strathclyde): Animal Passions and Natural Foods: Vegetarian Sexuality in the Humanitarian League
11:30-12:00         Coffee break, Garden Reception, RAMM
12:00-1:30           Panel 5: Speculative Environments
Trycia Bazinet (Carleton University): The Chaos and Promiscuity in Speculate Geology: Post-Glacial Rebound of the Abitibi Lake
Eva Hoffman (Whitman College): Queer Futures: Reading Feminist Anthropocene Fiction in a Transnational and More-Than-Human World
Kathrin Bartha (Monash University/Goethe University): Reconsidering Evolution Beyond 'Mother Nature': Multi-species Sexual Appetite in Ellen van Neerven's "Water" (2015)
1:30-2:15              Lunch served in Garden Reception
2:15-4:15              Panel 6: Sex, Nature and Politics
Ian Fleishman (University of Pennsylvania): Homoerotic Eco-Utopianism in Hitler Youth Films and 'Boy Scout' Porn
Hannah Boast (University of Birmingham): Theorising the Gay Frog
Kirsten Leng (University of Massachusetts Amherst) [via Skype]: Health, Nature, and Sexual Liberation: "Compulsory Able-bodiedness" and the History of Sexology
Tanya Bakhmetyeva (University of Rochester): Ecofeminism and the Carnivalesque: the Spatial Politics of Women's Environmental Activism in Poland
4:15-5:00              Final discussion and plans for publication.
+++
The call for papers announced in December 2018 can be found below.
Call for Papers: Sex and Nature 1800-2018
Since 2016 the Ecosexual Bathhouse art venue has been touring the world. Designed by the Pony Express artist collective, this roving multi-chamber venue aims to explore ecological fantasies: visitors can visit a pollination gallery, a composting glory hole, and a honey bee swarm. Activating desire and channelling erotic expression towards the elements of water, earth, air and fire, the project aims to nurture a visceral connection to nonhuman animals, plants, minerals, and inanimate materials.
The Ecosexual Bathhouse is but one of a number of exemplary case studies that disrupt and display the entangled categories of "sex" and "nature." This conference aims to interrogate and investigate diverse moments and sites where sex and nature, along with their practices, aesthetics, methodologies, and conceptual histories, are becoming visible in new and unexpected contexts, both in the present and the past, from sexologist Magnus Hirschfeld's interest in 'intersex butterflies' in the 1920s to the botanical sex scene of Han Kang's The Vegetarian (2007).
Historically, the relationship between sex and nature has long been contested. Ideas of nature and the natural have often been employed to secure and essentialise heteronormative binaries of sex, gender and sexuality. Much feminist and queer scholarship has been dedicated to revealing and challenging such uses of the natural. At the same time, the relationship between nature, the natural and sex has been interpreted to support a variety of causes: in the late nineteenth century, for example, feminists took on the cause of anti-vivisection because they saw it as indicative of a common objectification of women and animals. From Darwin and Linnaeus to Krafft-Ebing and Kinsey, categories of sex and sexuality were introduced into concepts of nature and the natural world. This categorisation of sex and nature led to highly contested and politicised debates among their contemporaries. More recently, the relationship between sex and nature has opened up debates in ecofeminism (Greta Gaard, Val Plumwood), material feminism (Elizabeth Wilson, Stacey Alaimo) and Anthropocene feminism (Claire Colebrook) that seek to rethink the relationship between sex and nature. Instead of rejecting or challenging the idea of the natural, such scholarship has demonstrated the queer and feminist potential of nature. Ground-breaking treatments of nature and sex have led to robust theorizations of queer ecologies (Catriona Sandilands, Astrida Neimanis), natural histories of sexuality (Greta LaFleur) and new kinship forms through reproductive technologies (Sarah Franklin), to name but a few.
The conference welcomes scholars from all disciplines drawing on a broad range of methodologies and focusing broadly on the period since 1800. We aim to explore the entangled categories of sex and nature by examining a wide range of topics related, but not restricted to:
Natural histories of sex and sexuality
Sexuality and nature: naturalising sexuality, sexing nature
Queering nature, naturalising queerness
(Un)natural sex, (de)naturalising sex, (re)naturalising sex
The politics of sexual nature
Nature, naturalness and normativity
Nature and feminist critique, past and present
The sexual politics of biotechnological reproduction
(De)extinction and (re)production
Sex and nature in the Anthropocene
Authorities on nature beyond natural sciences
Race, indigeneity, sex and nature
Human, animal, vegetable sexuality
Sex, nature and disability
Intra-species sexualities from prehistory to the present
Intersex across species-boundaries
Abstracts of 350 words, along with a 50-word bio, sent in word format or copied into email body, should be sent to Dr Ina Linge (k.linge@exeter.ac.uk) and Dr Sarah Bezan (s.bezan@sheffield.ac.uk) by 30 January 2019. Confirmed participants will be notified by early February 2019. Early career scholars and post-graduate researchers are expressly encouraged to submit abstracts. Travel bursaries will be offered to two postgraduate participants in exchange for live-tweeting during the conference and written reports following the conference. Please let us know in your abstract submission if you would like to be considered for these. We are keen to publish a selection of papers from the conference as an edited volume or special journal issue. Further plans will be discussed with delegates at the conference.
This conference is generously supported by the Wellcome Trust-funded Rethinking Sexology project.