Here we list events organised by our project as well as other events we hope will interest you. If you would like to advertise your event relating to the history of sexual science here please contact us.

Seminar: 'Unresolved Conflicts about Sex: Julian Huxley and the Progress of Sexology in Britain, 1916-1930'
13th December 2018 @ 15:00

-

17:00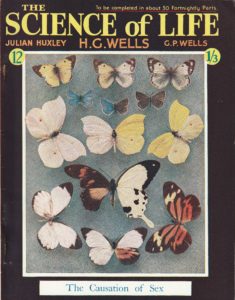 Ross Brooks (Oxford Brookes) will join us on the 13th of December 2018 to give a paper titled 'Unresolved Conflicts about Sex: Julian Huxley and the Progress of Sexology in Britain, 1916-1930.'
The event, co-hosted with Exeter's Centre for Medical History and the Sexual Knowledge Unit, will take place between 3-5 in Forum seminar room 12. All welcome!
More information about Centre seminars can be found from the following webpage: http://humanities.exeter.ac.uk/history/research/centres/medicalhistory/newsandevents/seminars/
Abstract:
This paper recovers a significant body of Julian Huxley's early writings concerning the biology of sex determination, sex development, and sexual behaviour. Following the success of his studies relating to avian courtship, Huxley envisaged a more integrated approach to the study of animal behaviour which would synthesise the perspectives of both field observations and experimental zoology. In this endeavour he considered sex-related questions the most pressing, although, in practice, he failed to assimilate his own ornithological observations of avian courtship with the new biology of sex determination which was developing at a rapid pace in Germany and North America. Especially during his period as Fellow of New College and Senior Demonstrator in the Department of Zoology and Comparative Anatomy at Oxford (1919-1925), the new biology of sex constituted one of Huxley's leading interests and played a major role in establishing him as one of the twentieth-century's most famous public intellectuals and popularisers of science and eugenics. It was largely because of Huxley that, after decades of resisting Continental sexology, the medico-scientific study of sex differences became both respectable and popular in Britain, although the subject remained inextricably entangled with Huxley's eugenic vision of human progress.