Here we list events organised by our project as well as other events we hope will interest you. If you would like to advertise your event relating to the history of sexual science here please contact us.

Trans History & Heritage Seminar
27th November 2019 @ 15:30

-

17:30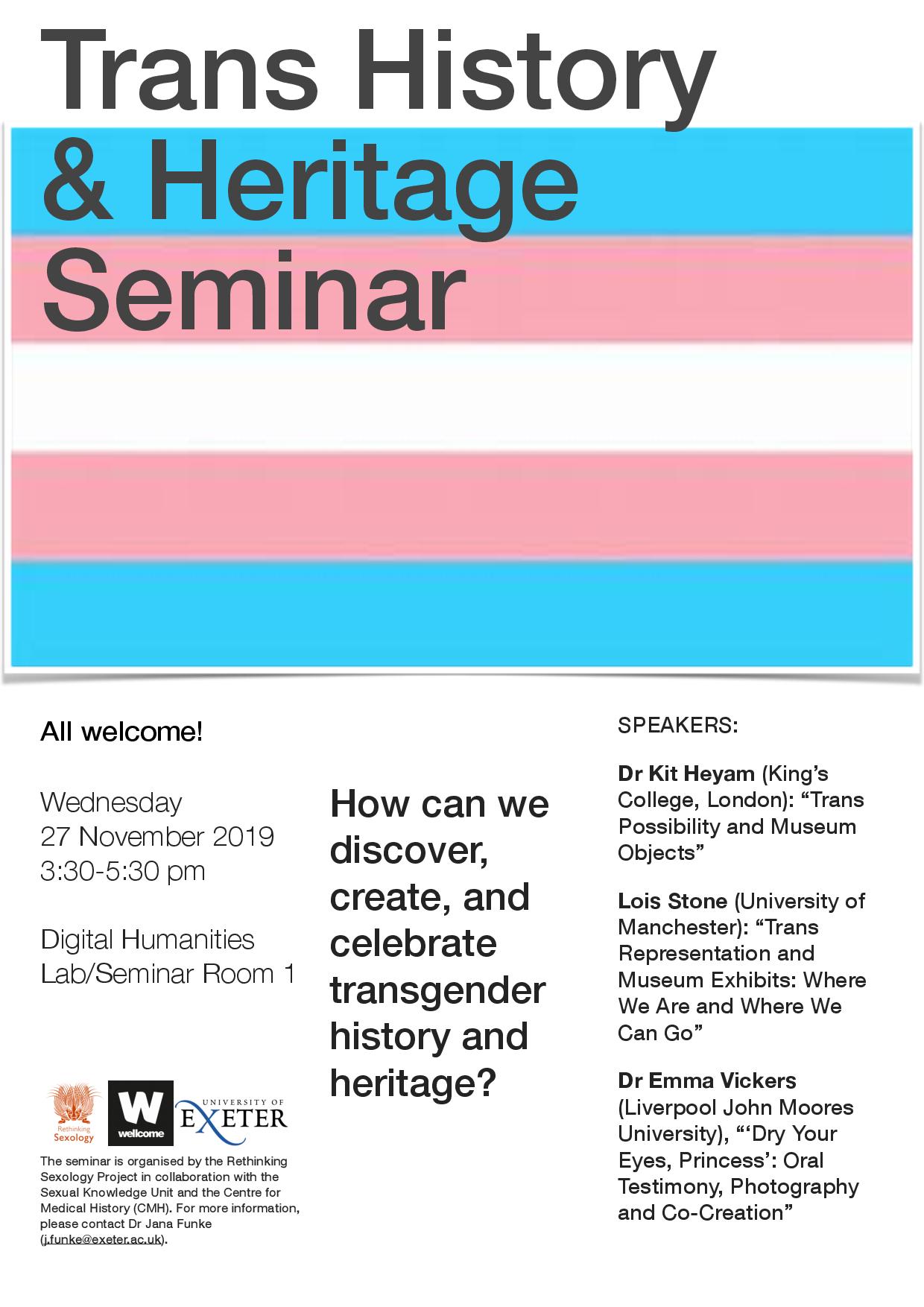 Dr Emma Vickers, 'Dry Your Eyes, Princess: oral testimony, photography and co-creation'
This presentation will explore 'Dry Your Eyes, Princess', a project that used oral testimony and photography to narrate the experiences of trans veterans of the British Armed Forces. It discusses the historical background of the underpinning research and will reflect on some of the methodological considerations that arose as a result of the close collaboration between an artist, a historian and the trans community, particularly in relation to queer oral history.
Dr Kit Heyam, Trans possibility and museum objects
What happens when we know a historical figure – or a large group of people – engaged in gender nonconformity, but their motivations and gendered subjectivity are impossible to establish? How can those histories be curated? The international project 'Gendering Interpretations' – a collaboration between the University of Plymouth, V&A Museum, Lund University, and Stockholm's Vasa Museum – has developed a methodology for uncovering the gendered aspects of museum objects, including their trans possibilities. This paper shares the project's findings, with a focus on its capacity to uncover the trans histories of museum objects, and addresses the challenges this poses for museum representation.
Lois Stone: Trans Representation and Museum Exhibits: where we are and where we can go
Over the past 4 years I have worked to understand how British museums have worked to better include the history and heritage of trans people and the trans community. At this workshop I will share what I have found, looking specifically at several case study exhibits and will present information about how to improve trans representation for the future.