Here we list events organised by our project as well as other events we hope will interest you. If you would like to advertise your event relating to the history of sexual science here please contact us.

Sex and Nature: 1800-2018
10th June 2019

-

11th June 2019
Sex and Nature: 1800-2018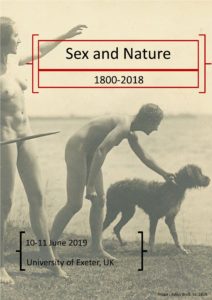 This conference is co-organised by Dr Ina Linge, Associate Research Fellow with the Rethinking Sexology project, and Dr Sarah Bezan, Newton International Fellow at The University of Sheffield Animal Studies Research Centre (ShARC).
The CFP for this conference can be found here.
Keynote speakers:
Greta LaFleur, Yale University, USA
Astrida Neimanis, University of Sydney, Australia
Artist in Residence:
Amy Cutler, Royal Holloway, University of London, UK